What does it mean that this year's Walk for Life is virtual?
While we wish we could be walking together with all of you at Memorial Park as in other years, given current public health guidance, we will be celebrating the value of human life as we walk in our own neighborhoods. We encourage you to make plans to walk with your family or a small group (while practicing social distancing) and share your experiences with us by tagging @lifenetworkcos and #walkforlifecos on social media. We will also be hosting a live-streamed virtual event, where we'll share stories of how your fundraising impacts our daily ministry to families in our city, show how some of our staff & supporters are spending their Walk for Life and more! See below for details on our easy drop-off locations for turning in fundraising and picking up your prizes on June 6th.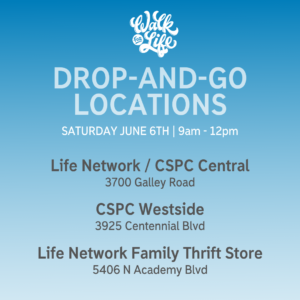 How do I fundraise online?
Register and create a personal fundraising page, then share it on your social networking pages and email – just use the links on your fundraising page! Watch this video to learn how!
What should my fundraising goal be?
It'll be easier to reach than you might think! Download "How to Raise $500 in 10 days."
How will my sponsor donations be used?
All funds raised at the Walk for Life benefit the work of Life Network to value life and transform lives in Colorado Springs. Direct sponsors to elifenetwork.com to learn more, or use the information on your pledge sheet. Be sure to let your sponsors know their donation is tax-deductible. 
Download a paper pledge sheet here. Obtain your first pledge from a generous donor, often other donors will match that amount.
Who should I ask to sponsor me?
Click here for ideas – We bet you know more people than you think! Don't forget to ask family and friends who live out of town! Using your social media can also be a powerful tool – take a peek at our Resources page for ready-to-go social posts and easy-to-share videos! If you prefer paper, download a paper pledge sheet here. Obtain your first pledge from a generous donor, often other donors will match that amount. 
How much does it cost to participate in the Walk?
There is no cost/fee for the Walk portion of the event. However since this the biggest fundraiser for Life Network, we encourage people to participate by raising funds or sponsoring themselves. More info can be found here.
How do I turn in my fundraising?
To protect your health and maintain proper social distancing, we will have several drop-off locations for pledge sheets and funds throughout the city! You can come to one of the following locations from 9am to 12pm on Saturday, June 6th: 
*Life Network/CSPC Central: 3700 Galley Road
*CSPC Westside: 6905 Centennial Blvd
*Life Network Family Thrift Store: 5406 N Academy Blvd
Remember to bring all cash and checks you've collected with you. We will also have your prizes available to pick up! 
If you are not able to come on Saturday, June 6th, all pledge sheets, checks and other materials may be mailed to Life Network at 3700 Galley Road, Colorado Springs, CO, 80909 or dropped off during business hours if possible. If you have any questions at all, please reach out Alyssa at adwire@elifenetwork.com. 
I can't Walk or Run that day can I still participate?
Yes! You can still raise funds and walk in your own neighborhood at any time. You can mail or drop off any pledge forms/payments at 3700 Galley Road.
How do I get this year's cool Walk+Run T-Shirt?
Everyone who raises at least $150 will earn this year's shirt! All volunteers and church Ambassadors will also receive this year's shirt as a thank you.  
What if it's raining the day of Walk+Run?
Rain or shine we'll be at each of our three pledge form drop-off locations! 
When is the Life Saver event for those who raise at least $1,000?
Our Life Savers event will be a special event held in July. (Lord willing!) More details will be released to our Life Saver Club members by email and with an official invitation.
Why didn't you answer my question?
Just get in touch with us HERE and we will do our best to answer any questions you might have!